Sinus Ear, Nose, Throat & Facial Plastic Surgery
What We Do
For the past 38 years, Southern E.N.T. Associates, Inc. has provided quality ENT care for the people of Southeast Louisiana. The Practice of Otolaryngology, which refers to treatment of conditions of the ear, nose, larynx, and upper respiratory tract, requires great skill and extensive training in both medicine and surgery. The physicians of Southern ENT, all lifelong residents of the area, are all highly trained, board-certified specialists.
In addition to being lifelong residents of the area, the Southern ENT physicians are highly regarded by peers as experts in their field. Several were recently included in New Orleans Magazine's "TOP DOCS" feature. Other accomplishments include membership in Alpha Omega Alpha, medicine's most prestigious honor society.
Southern ENT provides a number of services only offered in large metropolitan areas, such as: a full range of hearing and balance testing, pediatric ENT services, facial plastic surgery, sinus surgery, and allergy testing and treatment.
Medical Skin Care Spa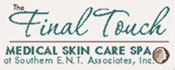 Learn more about The Final Touch medical skin care spa.

Who We Are
Our number one priority is the well being of the children and families in the communities we serve, providing them with a quality of Otolaryngology care that is unsurpassed anywhere in the world.
See Our Video!